bone-in
5 Wings $6.99
10 Wings $11.99
20 Wings $23.99
boneless
½ LB $8.99
SAUCES:
Carolina Reaper
WARNING: This is HOT! No Refunds!
Mango Habanero
Ghost Pepper
Cajun
Buffalo
Southwest Thai Chili
Mild
Honey BBQ
Lemon Pepper
Garlic Parmesan
Teriyaki
SANTA FE BLACKENED CHICKEN SALAD $10.99
Blackened Chicken Breast, Avocado, Corn, Cherry Tomatoes, Red Onion, Tortilla Strips, Jack & Cheddar Cheeses with Santa Fe Ranch
---
BOOMERJACK'S COBB SALAD $10.99
Grilled Chicken, Avocado, Mixed Cheese, Cherry Tomatoes, Bacon, Bleu Cheese Crumbles, Hard-boiled Egg and Red Onions
---
Southwest Quesadilla Chicken Salad $10.99

Grilled Chicken, Black Bean Corn Relish, Tomatoes, Cilantro and Quesadilla Wedges drizzled with Chipotle Ranch
---
BOTTOMLESS SOUP AND SALAD $7.99
House Salad with your choice dressing and a bowl of Soup
WRAPS
---
Grilled Chicken Wrap $9.99
Buffalo Chicken Wrap $9.99
All wraps served with a side of fresh-cut fries.
SOUPS
---
Bowl $5.99
Loaded Baked Potato
Tomato Basil
Cheesy Chicken Tortilla
Double Double Smashed Burger $11.99
Two thinly smashed burgers, American cheese, Sliced Bacon, Ketchup and Mayo
---
Spicy Poblano Pepper Smash Burger $11.99

Two thinly smashed burgers, Roasted Poblano Peppers, Pepper Jack cheese, Ghost Pepper Mayo, Sriracha Ketchup
---
CHEDDAR BURGER $9.99
Add Applewood Smoked Bacon $1
---
The TRIPLE B Burger $12.99
Beef! Bacon! Brisket!
Topped with onion strings on a pretzel roll
---
THE ANGRY ROOSTER $11.99
Topped with Pepper Jack cheese, a fried egg and our secret Sriracha Rooster Sauce
---
PATTY MELT $11.99
Toasted marble rye, Swiss cheese, Thousand Island Dressing and Balsamic onions
---
Beyond Burger™ $11.99
Plant-based burger. Add one topping: Cheese, Roasted Peppers, Grilled Onions or Guacamole
---
CHIPOTLE BLEU CHEESEBURGER $11.99

Bleu Cheese crumbles, bacon, Chipotle mayonnaise and topped with hand battered onion strings
All Burgers served with Fresh-cut French Fries.
Sub Sweet Potato Fries or Onion Rings 99¢
Gluten-free buns available $1.99
All entreés served with choice of one side unless noted.
-NEW- Nashville Hot Tenders $10.99
Hand-battered chicken tenders tossed in house-made hot sauce served with fresh-cut fries, coleslaw, dill pickles & bread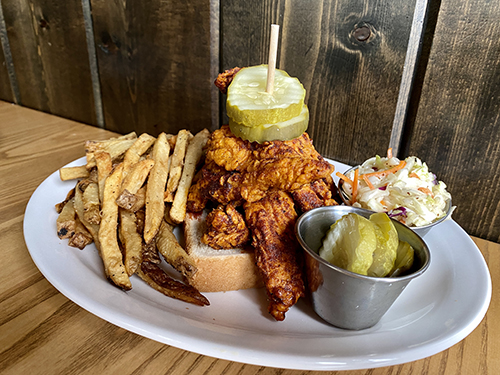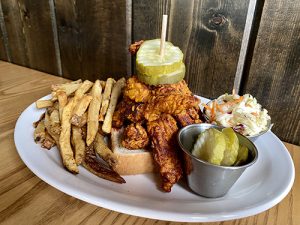 ---
-NEW- Chicken & Waffles $9.99
Hand-battered chicken tenders served over a fresh-made waffle with a side of maple syrup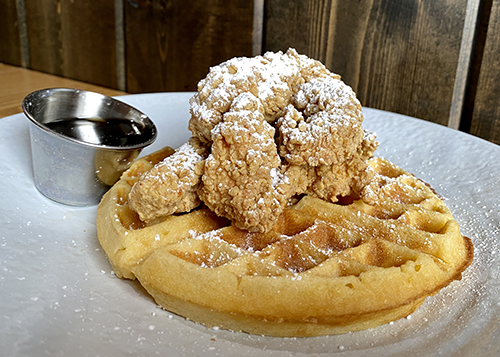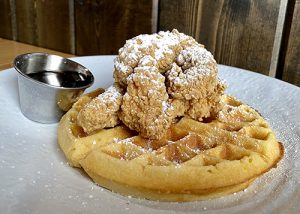 ---
wagyu chicken fried steak $12.99
---
CHICKEN FRIED CHICKEN $10.99
---
Fried Catfish $13.99
---
hand-battered Chicken Tenders $9.99
---
1/2 LB Boneless Wings $9.99
---
PORK CHOPS $14.99 
Two Hand-battered or Grilled seasoned chops
Served with 2 sides
---
Sirloin $15.99
10oz of 100% USDA Choice,
Served with 2 sides
---
Ribeye $20.99
12oz of 100% USDA Choice,
Served with 2 sides
---
Teriyaki-glazed SALMON $15.99
Served with Steamed Vegetables and Cheddar & Jalapeño Mashed Potatoes
---
Hawaiian Chicken $13.99
Teriyaki-glazed Chicken served with a Pineapple Ring over Rice Pilaf and Steamed Vegetables
---
TURKEY PRETZEL MELT $10.99

Sliced turkey breast, melted Swiss cheese and creamy Honey Dijon on a pretzel roll
Make it a club $1
---
TEXAN MELT $10.99
Smoked Brisket, Honey BBQ Sauce, caramelized onions, Jack and Cheddar cheese melted on Brioche Bread
---
CLASSIC REUBEN $10.99
Hot Corned Beef, Swiss Cheese, Sauerkraut and Thousand Island Dressing on a Toasted Marbled Rye
---
BLT $8.99
Hickory Smoked Bacon, lettuce, tomatoes and topped with creamy Pesto Mayo
---
PESTO CHICKEN MELT $10.99
Grilled chicken, herb roasted tomatoes, fresh basil, Fontina and Jack cheese melted on Brioche Bread

---
MONTE CRISTO $11.99
Turkey, Ham, Swiss and American Cheese, battered and fried, topped with Powered Sugar and served with Raspberry Preserves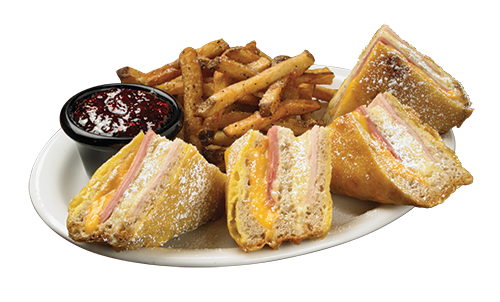 ---
NASHVILLE HOT $10.99
Hand Battered Chicken, House-Made Hot Sauce, Sweet Slaw, Onions and Pickles

---
CALIFORNIA RANCH CHICKEN $11.99
Grilled chicken breast with bacon, Swiss cheese, fresh avocado and Homemade Ranch
---
PHILLY CHEESE STEAK $10.99 
Thinly sliced steak grilled with roasted bell peppers, onions and Provolone cheese
Served with a side of Au Jus Sauce
Fresh-cut Fries
Sweet Potato Fries
Steamed Vegetables
Side Salad
White Cheddar Mac N Cheese
Grilled Vegetables
Hand Battered Onion Rings
Cheddar & Jalapeño Mashed Potatoes
-NEW- TABLESIDE S'MORES $8.50

HOMEMADE BANANA
PUDDING $5.99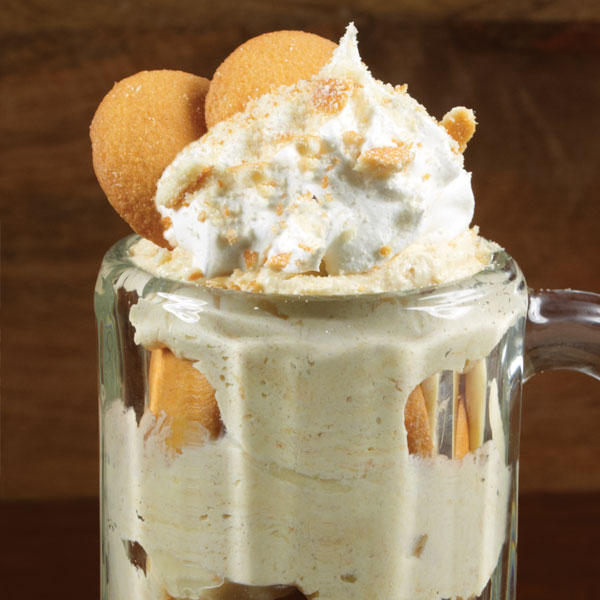 MOLTEN CHOCOLATE
LAVA CAKE $6.99